Anna from Afrolocke.de contacted us a few weeks ago. She told us that she would like to do an interview with us.
Can you imagine how excited we were?
Our very first interview. Yessssss!
On Saturday, March 16, 2019, the time had come. Anna joined us in the salon with her sweetheart. With her warm, open nature, she won us over immediately.
You know that feeling when you meet someone for the first time and you feel like you've known each other forever?

Here's the full interview:
Curl-ish in the interview – How do you actually cut curls properly?
Tips and tricks for your natural curls
Finding a hairdresser who knows about natural curls is quite difficult. Often you despair on the search and you do not want every conventional hairdresser to cut your curly mane. Cutting afro curls and frizzy hair requires a lot of love for the hair from the professionals.
We visited Hanna and Tina from Curl-ish in Zurich. Two curly heads who love their natural curls and have been bringing natural curls from wavy to kinky curly hair to life since October 2018 in their beautiful salon.
Why do you find so few specialists for curly hair? What's the reason?
Hanna: It hasn't really sunk in yet in the hairdressing industry that natural curls need special care and cutting. Many assume that hair, whether straight or curly, must be treated the same. When cutting natural curls, it comes down to the fact that you take care of each curl.
Should you cut tips on (afro) curls regularly? 
Hanna: Yes, I recommend cutting the tips 2-4 times a year. It also depends a bit on what haircut you currently wear and what your hair goal is.
How do I know it's time for a tip haircut on my natural curls? 
Hanna: It varies a lot. I, for example, dye my hair and notice it either by hair splitting or by small knots at the ends of my hair. These are signs for cutting the ends, even if it's only a 1 cm.
Can any hairdresser cut afro curls? Is there any special training for cutting curls? 
Hanna: There are various further training courses after your training as a hairdresser. The training itself deals with topics such as: Hair structure, chemical properties of hair, etc. If you want to specialize in curls, there are courses you can do after the apprenticeship.
It's always better to go to a hairdresser who has an understanding of hair and doesn't show any insecurities about being able to handle your curls or knowing what to do with it. I would always recommend getting my hair cut by someone who specializes in cutting curls and has the necessary know-how including using the right products.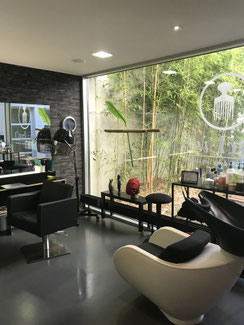 How long do you take for a curly haircut?
Hanna: I take my time for every strand of hair. From the consultation to the washing, the haircut to the styling, I reckon with about 2.5 hours. With wavy hair I need about 1.5-2 h. With curly hair it is about 2.5 h.
Do you proceed differently for the different curl types (2a – 4c)? 
Hanna: Overall, there are no big differences. I work with the structure of the hair for all curl types, whether wavy or kinky curly.
With a wet haircut, the hair is made wet, combed out and cut straight with a comb. Logically, this does not work with curls, because this creates unevenness. This is because each curl has its own bounce.
Can you get frizzy curls defined with the right cutting technique? 
Hanna: I can't change the hair with the haircut, of course. You can work with the right products and styling to gain more length. If you have kinky curly hair, I recommend working with techniques like bantu knots, twist outs, etc. Bantu Knots are twisted up strands of hair when wet. Imagine twisting your hair with curlers, but without the curlers. Your curl structure will change and the result will last until the next shampoo.
Should you cut natural curls when dry or wet?  
Hanna: I recommend cutting the curls in dry condition. That's how I learned it during my advanced training in New York. It's important to me that my clients come to me preferably with their hair open, detangled, and no styling product in their hair. That way I can see how each curl falls and what the natural hair texture is like. This allows me to cut the curls one at a time. After that, I do the co-wash and look at the haircut while wet. However, I do the essential cut in the dry.
Can I also cut my own curls? 
Hanna: It depends on how brave you are (laughs). I know many people who say, I'll just give it a try! But then please use real hair scissors and not nail scissors or paper scissors, that's not good for the hair. Basically, a visit to the hairdresser is recommended in any case
Finally – your ultimate secret tip for cutting curls? What is your secret recipe?
Hanna: The love for the hair and the understanding of the hair. You have to love the hair.
Thanks to Hanna and Tina for your valuable tips. We are totally thrilled with the girls from Curl-ish and wish for more people like them!
*****
You can find more info about Anna and other useful tips at www.afrolocke.de.
****
P.S:
Dear Anna, thank you so much for the interview. It was a real honor for us ❤️