For natural wavy, curly & kinky hair
Curl-ish is the feel-good oasis for your hair. Here you will feel understood and cared for. Whether you got wavy, curly or kinky hair – we want to preserve the natural beauty of your curls and give them the needed tender, love and care…
Spa Mist II uses a soft, microscopic mist that penetrates the scalp and hair. An ultrasonic transducer generates a fine mist of microscopic water particles. The warm mist opens up the cuticles of your hair and so it can absorb all the good stuff from your favorite hair product way much better. Absolutely fabulous. The feeling.. can't describe it. Relaxing on a whole other level. Try it out.
Book your all round feel good hair care appointment with us and let us spoil you & your curls 😍
Curl-ish is about self-love and self-acceptance. Curl-ish is especially also about the love and celebration of natural curls. We wanted to put all this into one song. Together with Shedea Dona & Simiux we wrote the song called "Natural" to empower our surroundings to embrace their natural beauty.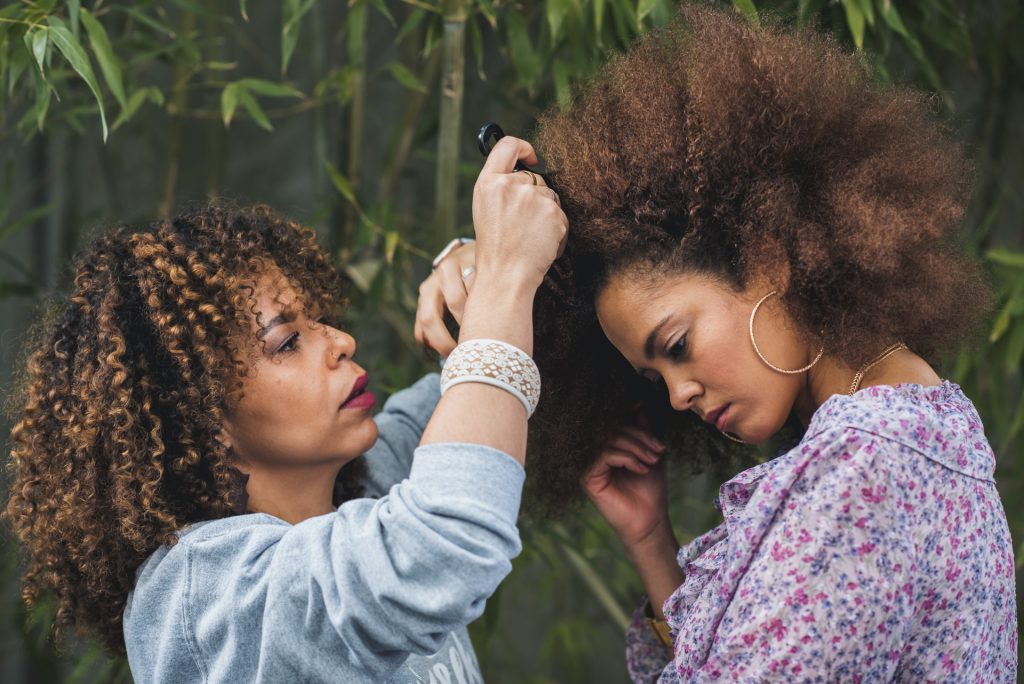 Incl. consultation - without washing
Incl. consultation - without washing
Incl. consultation - without washing
Spa Mist Treatment

CHF 120

without Styling
Washing, work in products & diffuse
Don't just take our word for it
David N'Doye
19. Februar, 2023
Best in town!! They know what your curls need
Liv Bugden
17. Februar, 2023
I had a curly hair cutter back in oz and I was so worried I wouldn't find one here in Switzerland so I was relieved when I looked on my way to zurich that Curlish exsisted AND when I messaged they managed to get me in on the one day I was in town. Hana did a beautiful job and I loved the colour also. The curls looked ace when I left and I have been able to get them to curl since with very little effort (I have wavy annoying hair) which is the sign of a great cut. I'll be back!
Super Kompetent. Tolles Ergebnis. Bin extrem heikel aber war mega zufrieden. 🙂
Léa Siegrist
4. Februar, 2023
Heute durfte ich das erste Mal (und garantiert nicht das letzte Mal) bei Curl-ish meine Locken schneiden lassen. Da ich umgezogen bin, musste ich auch eine neue Coiffeuse finden. Als Lockenkopf immer eine eher stressige Situation! Zu meinem Glück bin ich genau am richtigen Ort gelandet. Hanna erkannte nach kurzem analysieren meiner Haare genau die 'Problemstellen' die auch mir aufgefallen sind und nach einem Gespräch darüber was nun meine Wünsche und Vorstellungen sind, gings ans Schneiden. Nach 30 Minuten verliess ich das sehr schön eingerichtet Geschäft mit einem tollen Schnitt, einem strahlendem Gesicht und einem Termin für in 6 Monaten. Du suchst einen Lockencoiffeur? You found it!
Debanjali Belter
26. Januar, 2023
I choose the DevaCut with styling as it was my first time. Sam was highly knowledgeable of curls and the products. He explained me throughout of what he is doing and what's best for my curl type. Super gentle and patient. And I came out with what exactly I have been looking for my hair for ages. All the staff were very polite and caring. A really compact place with all things you need for curls. Thank you Team.
Israel Martinez
21. Januar, 2023
Very good
Missmarcyification
20. Januar, 2023
Best vibes, always friendly, kind and helpfull! Good Music also!!! I just love to go check out for the hairproducts, hairwraps and other stuff….and now they even got jewelry. Its all from black owned businesses, which i like very mucho!!!
Rebekka Watson
20. Januar, 2023
Loving treatment!
Stop by, unwind, and let yourself be pampered…