Women with Afro Curls - A long history of discrimination
Women with afro curls often face discrimination and prejudice because of their hair. Therefore, they hide their afro under wigs or stretch their curls with harmful chemical agents. This is not about style, as rec. reporter Sofika Yogarasa learns.
Read the entire interview here: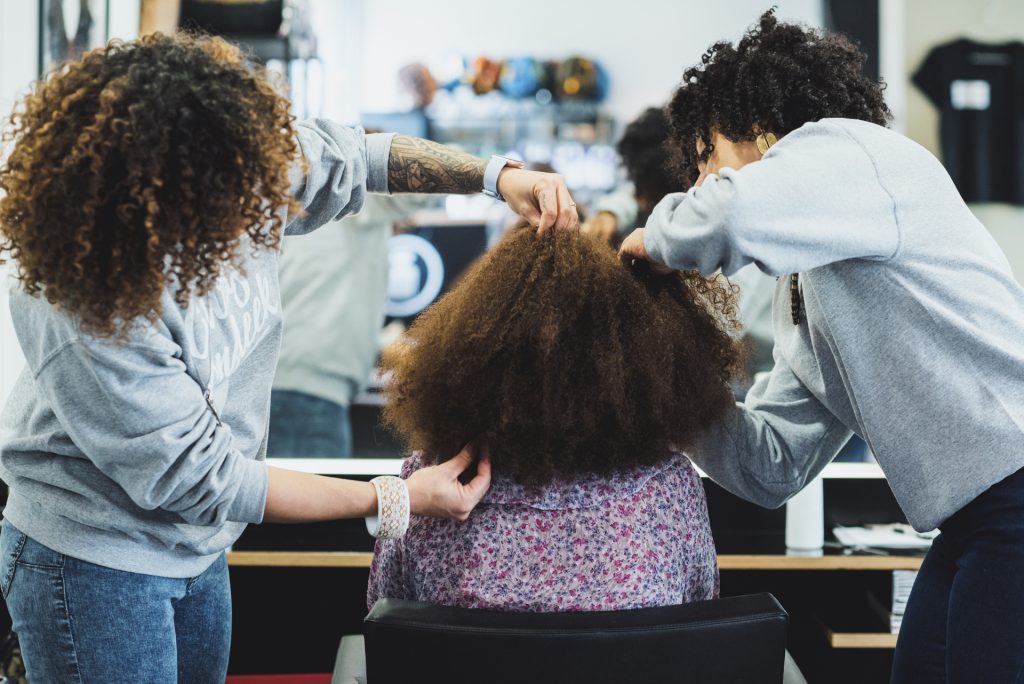 Image: www.carolinekrajcir.com
From wavy to frizzy: FAQ for curls of all kinds.
SEPTEMBER 20, 2021
What are you doing when you don't know anything about a subject, but you really want to give it a stage?
Obviously you ask people like the two adorable hairstylists Tina & Hanna from Curl-ish, who gave me their best tips for the following FAQ about curls of all kinds, for help.
Read the entire interview here: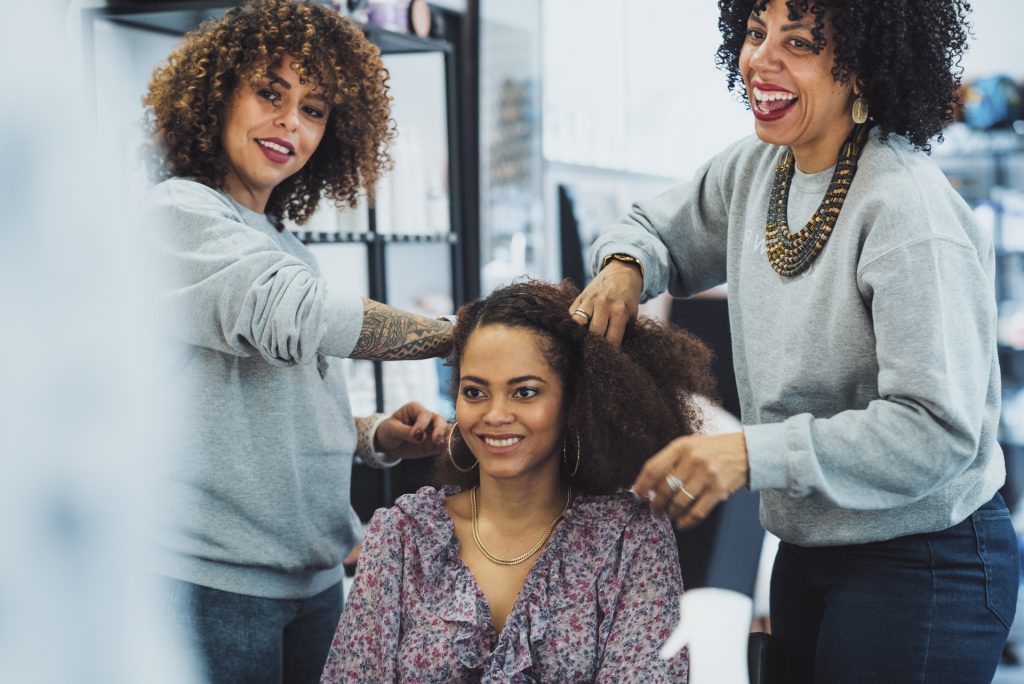 Dedicated themselves to Afro: Tina & Hanna have opened a salon especially for curls.
Image: www.carolinekrajcir.com
Interview with Transhelvetica #64 Schwarz
In front of the scene: Afro experts Hanna & Tina
Text – Aurelia Schoeb / Image — Caroline Krajcir
Read the entire interview here: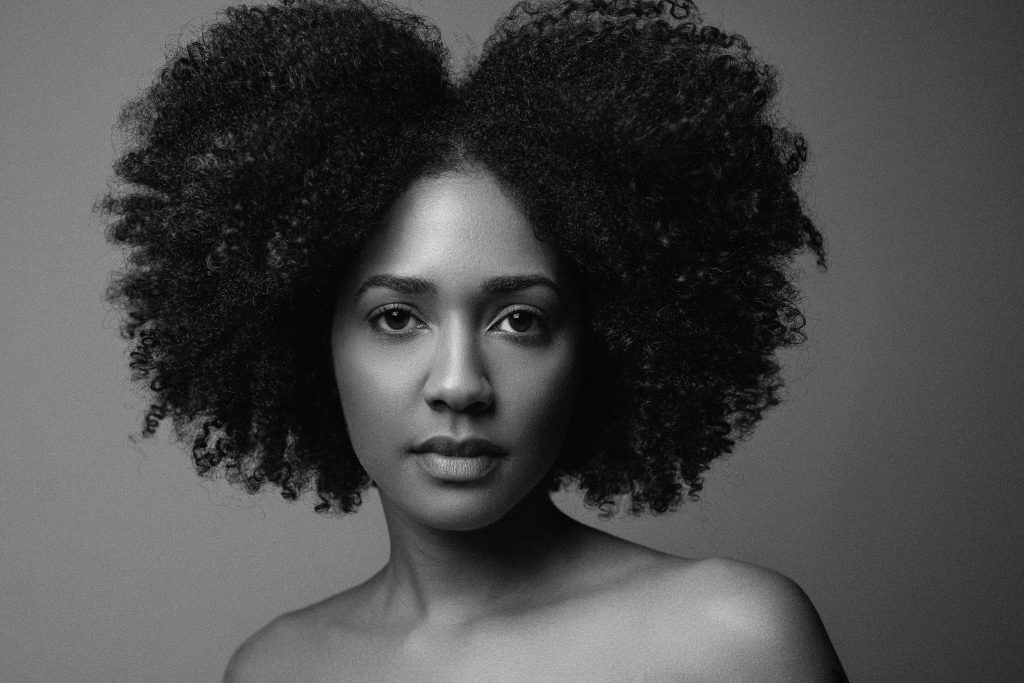 Interview with Schweizer Illustrierte
BLACK CULTURE CURLS
Proper care and handling of your Afro
The selection of products for Afros in this country is as limited as the education about its care. Tina Berner-Azigbo, proud afro wearer and hairdresser, explains how to handle the delicate hair – and appeals to patience and self-confidence.
Read the entire interview here: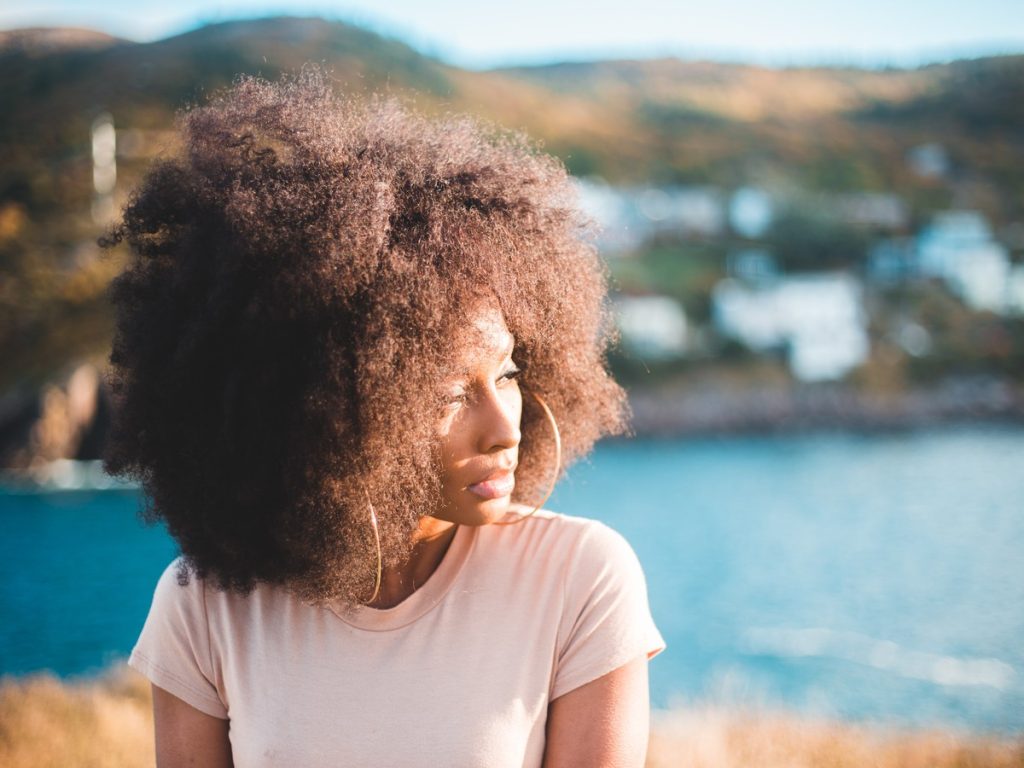 Dedicated to Afro: Tina & Hanna opened a salon specifically for curls.
Image: Erik Mclean/Unsplash
Interview with www.tsri.ch
"Keep it frizzy" – how two women from Zurich support the natural hair movement
While more and more dark-skinned students are being sanctioned because of their hair in the US, Tina and Hanna run a hairdressing salon in Zurich with a lot of "Afro-love" only for curls. Shortly before the lockdown they told us their personal (hair) story and why they want to prevent Afro hair from being considered unkempt.
A menacingly rising mountain of dark curls and a father armed with comb and brush, ready to enter the ring against the hair – a scene of the short film "Hair Love", which was awarded Best Animated Short Film at this year's Oscars just before the global lockdown. The director of the story, in which the father does eventually succeed in naturally taming his daughter's unruly afro, had invited a very special guest to the Dolby Theatre in Los Angeles that night: Student DeAndre Arnold from Mont Belvieu, Texas.
The 18-year-old gained notoriety shortly before when his school's administration instructed him that he would have to cut off his dreadlocks due to the official dress code if he wanted to attend his graduation ceremony. DeAndre fought back – successfully – and received celebrity support from the likes of US comedian Ellen DeGeneres and singer Alicia Keys. His story is symbolic of the increasing number of cases in which dark-skinned students from the US have been sanctioned for the way they wear their hair.
Read the entire interview here: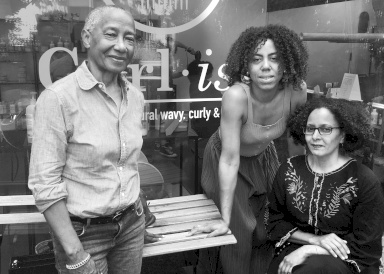 Nicole Vögelin, Tina Azigbo and Lina Rasheed
Interview with WOZ – Die Wochenzeitung
PORTRAITS OF BLACK WOMEN
Three realities
By Katharina Rusch and Mandy Abou Shoak
TINA AZIGBO
Hairstyle without disaster!
"I am half Nigerian and half Swiss, wife and mother of two children. I am also the co-founder of the hair salon Curl-ish. We are experts in wavy, curly and 'kinky' hair. I am a doer. I like the feeling of achieving my goals. But it was a big challenge not to lose focus on the way to self-employment, besides wage work and family obligations.
We started Curl-ish because there are not enough hair salons that know about curls, no matter what kind. From my own experience, I know how difficult it is to find a salon where you feel understood and do not have to fear that the visit will end in disaster. After all, this hair has its own dynamics. To shine in full glory, they need to be cared for differently than straight hair.
It is heartwarming to see how more and more young women wear their hair naturally, have the courage to stand by themselves and their curls – and accordingly no longer stretch their hair. We would like to accompany people on this path in our salon. Not to be underestimated, these places are also social meeting places where women come into contact with each other and have time to exchange ideas."
Read the entire interview here: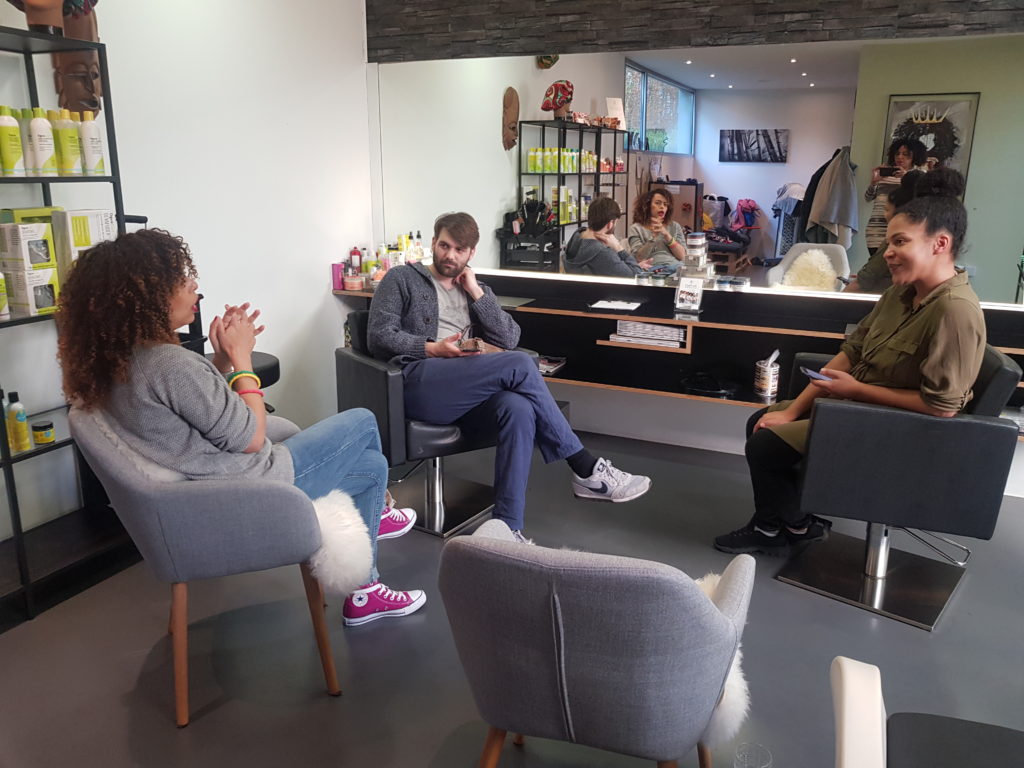 Anna from Afro Curl and Hanna in conversation….
Interview with www.afrolocke.de
Interview with Curl-ish – How do you actually cut curls properly?
Tips and tricks for your natural curls
Finding a hairdresser who knows about natural curls is quite difficult. Often you despair on the search and let not every conventional hairdresser work with your curly mane. Cutting afro curls and frizzy hair requires a lot of love for the hair from the professionals.
We visited Hanna and Tina from Curl-ish in Zurich. Since October 2018 two curly heads who love their natural curls and have been bringing natural curls from wavy to kinky curly hair to life in their beautiful salon.
Read the entire interview here: